IB Diploma Program Course of Study
about 1 month ago
IB DP Description
The DP curriculum is made up of six subject groups and the DP core, comprising theory of knowledge (TOK), creativity, activity, service (CAS) and the extended essay (EE).
Through the DP core, students reflect on the nature of knowledge, complete independent research and undertake a project that often involves community service.
SHS Course of Study
1. Choose 6 classes, one from each Group.
2. Choose either 3 HL classes and 3 SL classes OR 4 HL classes and 2 SL classes.
Group 1: English A: Literature HL
Group 2: French or Spanish SL or HL
Group 3: History of the Americas HL or Psychology SL or Environmental Systems SL (interdisciplinary--choose group 3 or 4)
Group 4: Environmental Systems and Societies SL (interdisciplinary--choose group 3 or 4) or
Biology HL
Group 5: Mathematical Studies SL orMathematics SL

Group 6: Visual Arts HL or
Music HL or a second subject from groups 1-5.
Students also take Theory of Knowledge (TOK) and complete Creativity, Activity, and Service (CAS) and an Extended Essay (EE).
IB Scores (comprised of Internal and External Assessments for each class) are scored on a scale from 1-7. Successful completion of CAS, the EE, the TOK presentation and essay, and 24 points.
The additional requirements for the award of the diploma are as follows:
**
There is no "N" awarded for TOK, the EE or for a contributing subject.
*There is no grade E awarded for TOK and/or the EE.
*There is no grade 1 awarded in a subject/level.
*There are no more than two grade 2s awarded (HL or SL).
*There are no more than three grade 3s or below awarded (HL or SL).
*The candidate has gained 12 points or more on HL subjects. (For candidates who register for four HL subjects, the three highest grades count.)
*The candidate has gained 9 points or more on SL subjects. (Candidates who register for two SL subjects must gain at least 5 points at SL.)
*The candidate has not received a penalty for academic misconduct from the final award committee.
In Colorado, public colleges and universities give at least 24 credits to students earning an IB diploma.
Out of state schools have policies for whether they give credit for IB exam scores and if they have IB scholarship money. Check the school's website for their IB credit Policy (search "International Baccalarueate").
Individual DP scores may also earn credit.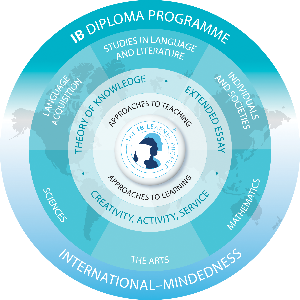 IB's Insuring Academic Honesty Policy
Ethical Practice for EEs and Fieldwork